→ Erell Hemmer – Pourquoi suis-je incapable d'aller sur la tombe de mon père ?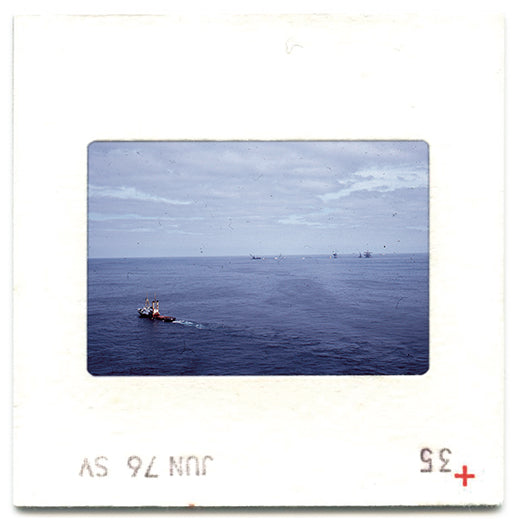 Pourquoi suis-je incapable d'aller sur la tombe de mon père? is a photographic and poetic project that follows the death of François Hemmer, former sailor, captain and maritime expert. In the form of an initiatory journey, Erell Hemmer retraces the process of mourning over five years by interweaving her photographs, texts, slides and engravings of her father. Born in Le Havre and raised in Brittany near Saint-Malo, Erell Hemmer has always intuitively found her inspiration near the coast. The sea inhabits her life and her imagination, and is thus the common thread of her questioning.

The layout of the book reflects the stages of mourning experienced by the artist; slides and images hidden between the pages (a play on transparency) are revealed page after page. This handmade book is a journey between Erell's photographs and those of her father, between Brittany and the rest of the world. The booklet, which is called "excursion to the past", is an index with captions for the images and translations into English.


Born in 1991, Erell Hemmer lives and works in Brussels. She is a graphic designer, photographer and co-founder of the collective Dis Mon Nom.
Photographs and texts by Erell Hemmer
Slides and prints by François Hemmer
Design, editing and graphics by Camille Carbonaro and Erell Hemmer
Cover design by David Loy
Cover typography by David Loy and & Maharani Yasmine Putri
Hand-binding of the book by Christel Casperman
200 mm x 280 mm
80 pages + index of 28 pages
Second edition of 200 numbered and signed copies (November 2022)
Digital and Offset printing, Click Click Brussels and Pbtisk Prague
Three types of paper Fedrigoni and Munken
Handmade binding
Text in French and English
Crystal paper envelope
Baleine Blanche collection
Macaronibook